Spa Facials & Skin Care
Radiant Deluxe Lifting Facial
$139 (60 Minutes)
Experience the benefits of our advanced anti-aging facial, which utilizes the latest non-invasive radio frequency and LED light technology.
It enhance skin elasticity by repairing damaged fibers and stimulating natural collagen production.
This treatment can promote circulation to targeted areas to aid in reducing adipose tissue. Trust in our cutting-edge technology to deliver exceptional results.
Classic/Pore Deep Cleansing
$85 (60 Minutes)
Transform your skin with our deep cleansing and exfoliating facial designed to revitalize and bring back its natural radiance.
Our treatment effectively detoxifies and cleanses pores, while improving skin texture.
This facial is ideal for all skin types.
a series of steps that include : 1]cleansing, 2]exfoliating, 3]extraction (if necessary), 4]massage, 5]mask, and 6]moisturizing.
it works wonders on dull, congested, and oily skin, especially those in need of extraction.
Give your skin the care it deserves with this rejuvenating facial!
Add On: Therapeutic mask, detox gel or peels – $10 to $25.
Acne Treatment/Facial
$85
This facial is ideal for individuals with problematic or acne-prone skin.
It effectively tackles acne breakouts, reduces excessive oil production and bacterial growth, and soothes inflammation.
It nourishes and moisturizes the skin.
Add On: Therapeutic mask, detox gel ,peels, led light – $ 10 to $ 25
Microdermabrasion with Facial
$110 (60 Minutes)
The Diamond Peel Procedure entails a gentle exfoliation process that minimizes abrasion to help lessen the appearance of blemishes such as scars, discoloration, sun damage and stretch marks.
The treatment involves the use of a microdermabrasion device which employs a diamond-tipped wand to eliminate expired and impaired cells.
Particular attention is given to reducing the visibility of fine lines around the mouth, eyes, forehead and laughter lines.
A Glycolic or Mandelic Peel may be administered for specific skin types if necessary.
Additionally, the procedure includes extraction, facial massage, the application of a soothing mask, serums, moisturizers and sunblock.
Rosacea/Sensitive Skin Facial
$119 (60 Minutes)
Red-Out Soother Facial is ideal for individuals with sensitive or irritated skin, as well as those with Rosacea.
This facial offers a thorough and gentle skincare regimen, complemented by a soothing extremity massage. It specifically addresses redness and the effects of parched skin, with the added benefit of a calming mask treatment.
Intense Hydrating Facial
$119 (60 Minutes)
An effective regimen for treating dry and dehydrated skin involves a combination of techniques and ingredients that work together to increase hydration and volume while reducing wrinkles.
By incorporating hyaluronic acid, which not only provides antioxidant benefits but also has plumping qualities, into this protocol, the skin can be restored to a fully nourished
This treatment is suitable for any skin.
Dermaplanning / Facial
$95 – $129 (60 – 80 Minutes)
With the removal of the top layers of dead skin cells and baby hair through the dermaplaning skin resurfacing procedure
Your complexion will appear brighter and smoother, instantly improving your skin tone and texture. Your peach fuzz will also be eliminated as a result.
The use of a gentle scalpel allows for the top layer of skin to be expertly scraped away, making this procedure an ideal complement to any makeup application or special occasion.
A collagen mask is also included with the 75-minute.
Add On: Collagen and Aloe Vera Mask $20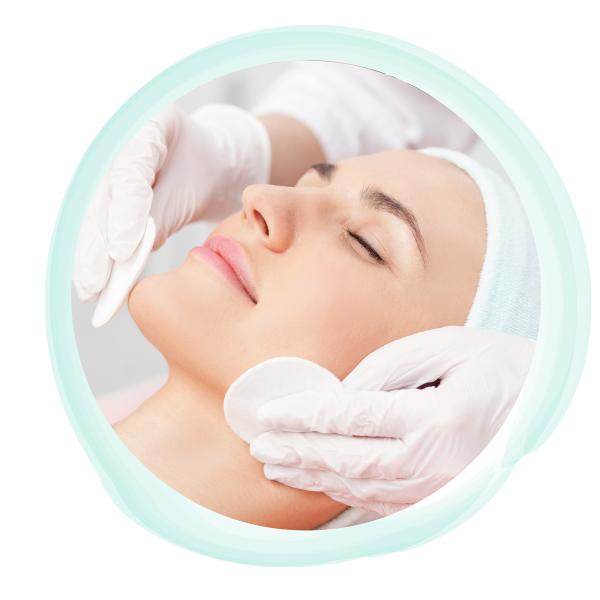 Vitamin C/Brightening Facial
$125 (60 Minutes)
Experience a targeted and personalized facial treatment that effectively exfoliates and revitalizes the skin's appearance.
Our treatment enhances skin texture and promotes a brighter, more radiant complexion.
It's especially beneficial for hyperpigmentation, sun damage, and aging signs.
Our specialized mask is suitable for all skin types and features a high level of vitamin C to treat visible signs of aging.
Specialty mask will apply.
Nourishing Anti-Aging Facial
$125 (80 Minutes)
This facial aids in repairing the skin's barrier function and reducing the loss of water through the skin, all while providing intense moisture to improve the condition of dry, dehydrated, and mature skin.
It effectively nourishes and revitalizes the skin.
Hydra Facial/Aqua Facial (Dermal Infusion)
$125 (60 Minutes)
The process involves applying serums that are high in nutrients to reduce fine lines and wrinkles, enhancing the overall look of the skin.
The treatment involves three stages: cleansing, exfoliating, and saturating the skin with hydration and nourishment, resulting in an instant skin
The HydraFacial machine can be adjusted depending on the skin type and skin condition, even people with sensitive skin can get a treatment.
Non-invasive treatment – can be combined with microdermabrasion and topicals, such as antioxidants. This has been found to produce greater results.
Gentleman Facial
$125 (80 Minutes)
This facial aids in repairing the skin's barrier function and reducing the loss of water through the skin, all while providing intense moisture to improve the condition of dry, dehydrated, and mature skin.
It effectively nourishes and revitalizes the skin.
Back Facial
$99 – @115 (60 Minutes)
Facials on the back are ideal for purifying hard-to-reach areas and address various skin concerns, such as blocked pores, back acne, and parched skin.
Back treatments are perfect for bathing suit season or somebody who wears open low-back clothing.
Refined Natural Facial
$125 (80 Minutes)
You have the option of selecting from EMINENCE ORGANIC LINE or NATURAL HERBAL PRODUCT for your facial treatment.
This bespoke organic facial is designed according to Ayurvedic principles, with fruit and vegetable enzymes freshly extracted to deliver optimal nourishment to the skin.
It features herbal cleansing, gentle exfoliation, and extraction techniques, leaving you with a deeply relaxed and indulged feeling.
Our choice of ingredients includes fresh orange, cucumber, papaya, honey, glycerine, and a fresh mask.
Alternatively, you can opt for the EMINENCE organic customized facial.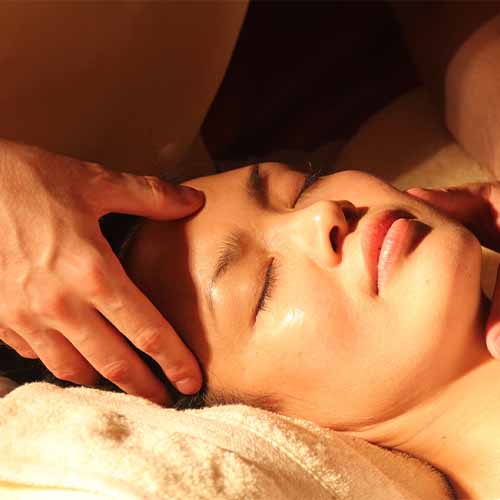 Oxygen Facial
$125 (60 Minutes)
According to claims, oxygen facials provide numerous advantages like deeply cleansing pores and reducing hyper-pigmentation.
Oxygen purportedly enhances skin elasticity, eliminates acne-causing bacteria, and reduces fine lines and wrinkles while also promoting even skin tone and minimizing pores.
Oxygeneo Facial
$75 to $125
The Oxygeneo facial offers a triple-action approach : exfoliating, infusing, and oxygenating for a super facial experience.
With just one appointment, remarkable results can be achieved. This treatment leaves the skin feeling visibly smoother, nourished, hydrated, and supple, with a more youthful appearance.
It offers a plumping and brightening effect, providing a radiant glow, while simultaneously boosting blood flow and metabolism.
Teen Facial
$69 to $85
To begin your consultation, we will swiftly evaluate your skin's concerns.
Depending on your skin type, the following stage will typically involve careful cleansing, gentle exfoliation, and the application of a therapeutic mask.
Our approach will prioritize your comfort, using calming products and a delicate technique to prevent any unwarranted redness.
Refined Signature Facial
$129 (75 Minutes)
The customized Refined Signature Facial provides a superior treatment for clients.
This revitalizing facial involves deep cleaning, gentle exfoliation, steaming, extractions, a high-frequency treatment, facial massage, application of serums and moisturizer, and concludes with sun protection.
Clients who opt for the Rejuvenation Mask will also receive a massage on their shoulders and decolletage. As an added bonus, we offer LED light therapy or a specialty mask, as well as a pampering hand and foot massage.
Other Services
$69 to $90
Skin Treatment
30 Minutes
Peel: Salicyli, Lactic or
$90 – 65
MIcrodermabrasion
Member
$65 – 90
LED Skin Photo Therapy
$65 – 90
7'E Quick Light
$65
Therapeutic Mask Treatment
$65

Contact Us

Facial Care & Prices
Radiant Deluxe Lifting Facial
60 Minutes
$139
Classic/Pore Deep Cleansing
60 Minutes
$85
Acne Treatment/Facial
$85
Microdermabrasion with Facial
60 Minutes
$110
Rosacea/Sensitive Skin Facial
60 Minutes
$119
Intense Hydrating Facial
60 Minutes
$119
Dermaplanning/Facial
60 – 80 Minutes
$95 – 129
Vitamin C/Brightening Facial
60 Minutes
$125
Facial Care & Prices
Nourishing Anti-Aging Facial
80 Minutes
$125
Hydra Facial/Aqua Facial (Dermal Infusion)
$129+
Gentleman Facial
60 Minutes
$89
Back Facial
60 Minutes
$99 – 115
Refined Natural Facial
60 Minutes
$99
Oxygen Facial
60 Minutes
$125
Oxygeneo Facial
$75 – 125
Refined Signature Facial
75 Minutes
$129

Contact Us

Escape to a world of pampering